Recently, Canada's Prime Minister Justin Trudeau let the following words slip out of his mouth:
"No country would find 173 billion barrels of oil under the earth, and just leave them there". To make his point clear, he added: "The resource will be developed [...] our job is to ensure that this is done responsibly, safely and sustainably". I remember laughing....
The screeching sound of endless train wheels passing by woke me from my tired slumber. I lazily opened my eyes to find my self engulfed by the almost perfect darkness inside my nylon tent. I got out of my sleeping bag, put on my glasses and a thicker jersey, opened the zipper and stepped out to see what all the ruckus was about. My bicycle, impassive to the train's good morning call, was still blissfully asleep...

I have never done a bike trip quite this long before, but on several occasions, I have spent weeks on end doing long distance trekking in the mountains. Thus, I know how meditative and therapeutic it can be, to do a long, physically demanding trip where one strips his/her life of everything except the bare necessities: wake up, eat, drink, pack, move, drink, eat, rest, move, eat, sleep. Repeat. I remember taking off from Berlin...

I find going up and down a hill with a bike functions in a very similar way to saving money in a piggy bank. Pedalling up is just like saving… it is arduous, hard and it takes a lot of time. One requires patience, consistency and perseverance. But alas! One reaches the top and the piggy is full with all the elevation coins and altitude notes you have worked so hard to get. And then what?...

I made my way westwards across Austria towards the city of Innsbruck, where I had planned to cross the Alps into Italy by way of the Brenner Pass. Getting there from
Salzburg
was as challenging as it was beautiful. A myriad of steep, narrow valleys would lead me to the Inn river, which I would then ride upstream until reaching Innsbruck.
On my way there, I pedalled through what I could only imagine to be winter sports...

Linz
welcomed me with open arms. This northern Austrian city saw to it, that the temperamental skies that had been soaking my good spirits would cease their annoying drizzle for a little while. On top of that, I was hosted by my friends Megan and Andreas, who generously offered to put me up and let me take a rest from the bike. I met Megan while in university in Berlin, and had always tremendously enjoyed her perceptive and...

I. Hate. The. Rain. Yes, sure, it waters wild plants and crops, cleans and humidifies the air, feeds streams and rivers, allows humans to obtain hydropower, replenishes the water table…. Well, big deal! It also soaks your clothes, fogs your glasses, makes the pavement slippery, impedes vision, makes cornering dangerous and turns your tent into a damp, musty and unlivable rat hole. It is a wet and miserable phenomenon...

Curiosity got the best of me and I decided to open one of those taps. "Nooooooooo" I thought, as a sparkling amber elixir first gushed, and then smoothly flew out of the tap "FREE BEER!!!!". It was early in the morning and I had a big biking day ahead of me, yes, but free beer is free beer. I tossed the useless water out of one of my drinking bottles and enjoyed this tasty forenoon refreshment...

Motorized axes, wax-museums, creepy men with bad acne scars and even Freddy Kruegger came to mind for a moment before I fell asleep, imaginary threats fueled by a mind overexposed to Hollywood productions. There was, however, a very real threat creeping towards my tent at that very moment: slugs. Attracted to the moist air emanating from within, a crew of thug slugs decided to come to my tent and party for the night...

I woke up in the middle of the woods. Having slept in a different location every night for a few nights in a row, I was a bit confused when I opened the tent's zipper and didn't recognize where I was. Thick foliage lay on the ground (which made for an excellent natural mattress) and as I saw my bike leaning on a nearby tree I started remembering how I got there...​
The idea popped in my head some 3 months ago, in the middle of the night. I woke up aroused by it, excited to see how this could be done, what gear I would need, how long it would take, what route would be best… It was a simple idea, and yet, it has taken me months to get ready for it: get on a bike and ride across Europe, from the city I live in, Berlin, to the town I grew up in, Torrelodones (right next to Madrid)...​
Powered by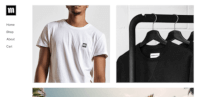 Create your own unique website with customizable templates.